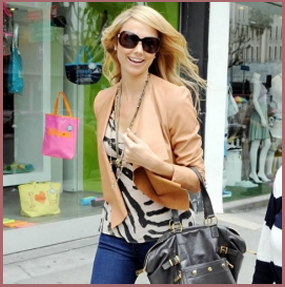 Stacy Keibler has been all over Hollywood the past few days shooting a brand new reality show, which is big news for the former WWE Diva and Dancing With The Stars reality show favorite.But the question on the minds of all of us here at THE HEYMAN HUSTLE is … who is that uber-hot brunette with Stacy? We have no details on the stunning dark-haired beauty, as even our EXCLUSIVE behind-the-scenes photographer couldn't get the lowdown.

"She was with Stacy, shopping on Robertson Blvd. and eating lunch at Jack 'n' Jill's in Beverly Hills," our man-on-the-scene reported, "but I couldn't get a name, address, phone number … um … I mean name or nature of her relationship with Stacy, and I asked everyone!"

So now that we know Stacy has a reality show, we also know the first buzz about the show is going to be the mystery of Stacy's sincerely-sizzling BFF.

We have a ton of exclusive photos from behind-the-scenes of the reality show, which you can check out here, and we'll be HustleTweeting about Stacy and her pal on Twitter. Join that conversatiion HERE
CLICK ON THE PHOTOS BELOW TO SEE THE ENTIRE
GALLERY OF STACY KEIBLER AND HER UBER-HOT FRIEND!

BP KILLS THE GULF. UMPIRES F-UP A PERFECT GAME.
THE WORLD ENONOMY IS ON SHAKY GROUND. TO US,
IN THESE TIMES OF TROUBLE AND TURMOIL, THE ONLY
THING TO DO IS TO HAVE THE PROFESSIONAL TRAINED
MONKEYS PERSONALLY CHOOSE THE 15 BEST STORIES
FROM THE WEEKEND. SO, JUST PICK A PIC … AND CLICK!