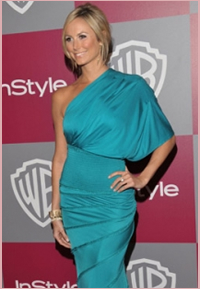 The Former WWE Diva Is Stunning With Her Brand New Look!

A quick shameless plug for a friend of THE HEYMAN HUSTLE … we have to admit, the absolute best coverage of The Golden Globes can be found on THE LIVE "GOLDEN GLOBES" COVERAGE ON @POPWRECKED, and we are covering Stacy Keibler's brand new look based on the fact Doug West
and his boys at that wild celebrity site send over these pictures.

Stacy Keibler, one of our all time favorite people, showed up at the Warner Bros. Post-Golden Globes Party, and the Dancing With The Stars alum was striking and beautiful on the red carpet.

CLICK HERE FOR THE 50 BEST PICTURES EVER TAKEN OF STACY KEIBLER!

CLICK HERE FOR STACY KEIBLER'S SUPER SEXY DAY AT THE BEACH … IN AN UBER-HOT BIKINI!

We're HustleTweeting about Stacy and her new look, and you're more than welcome to join the conversation! Follow the Hustle on Twitter HERE or write to us at hustleoncrave@gmail.com

You can also subscribe (for FREE, cheapos, absolutely FREE) to our Ultra High Quality YouTube Channel HERE, and don't forget to check out our old school social networking skills by visiting us on Facebook HERE and even on MySpace HERE

CLICK ON THE PICS BELOW TO SEE THE ENTIRE GALLERY
FEATURING STACY KEIBLER AND HER AWESOME NEW LOOK!

IT'S TIME FOR AN ALL NEW EDITION OF THE HOLLYWOOD CHARLIE
MEDIA WATCH, OUR DAILY TRAVEL ACROSS THE WORLD WIDE WEB.
OUR HIGHLY TRAINED MONKEYS HAVE PICKED OUT THE 15 WILDEST
STORIES FROM THE INTERNET FOR YOUR ASTUTE REVIEW. YOUR PART
IS VERY EASY. ALL YOU NEED TO DO IS PICK A PIC … AND CLICK!