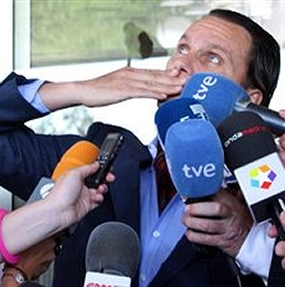 Julio Aparicio has been released from the hospital. The 41 year old Spanish Matador, who was gored through the throat during a bullfight in Madrid on May 21st , was unable to speak, but gestured to answer questions from reporters.
CLICK HERE TO SEE OUR ORIGINAL STORY ON THE BULLFIGHT, INCLUDING GRAPHIC VIDEO OF APARICIO BEING GORED THROUGH THE THROAT BY THE BULL!

A spokesman said it was not clear how long it will take for Aparicio to make a full recovery but he added that the matador hopes to return to the ring this year. Aparicio underwent surgery to reconstruct his jaw, tongue and the roof of his mouth and was placed on a ventilator for several days before finally recovering the ability to breathe on his own.
CLICK ON THE PHOTOS BELOW TO SEE THE ENTIRE GALLERY
OF THE PRESS CONFERENCE OUTSIDE THE HOSPITAL IN MADRID!

IT'S THE HOLLYWOOD CHARLIE MEDIA WATCH, WITH THE
15 BEST STORIES FROM ALL AROUND THE WORLD.
WELL, ALL AROUND THE WORLD WIDE WEB.
BUT YOU ALREADY KNEW THAT, DIDN'T YOU?
PLEASE PICK A PIC AND CLICK!