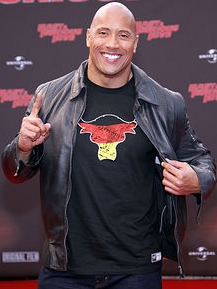 Dwayne Johnson is Back at the Very Top of the Global Box Office!
Right before heading to Miami for his big birthday celebration on WWE Monday Night Raw, Dwayne "The Rock" Johnson caused all sorts of pandemonium in Europe at the Cologne premiere of "Fast 5."
The movie, by the way, is a runaway smash hit.
Fast 5's estimated $83.6 million opening was not only the best yet for the "Fast and Furious" franchise but the biggest opening of 2011 so far, plus the largest in Universal Pictures history (beating "The Lost World: Jurassic Park") and the third-highest opening outside of the holiday or summer seasons. Overall, according to several reports, "Fast 5" gave the box office a 52 percent boost.
Co-producer and star Vin Diesel can also celebrate the movie's solid reviews. Set in Rio and uniting stars from the previous films for a heist story a bit removed from the franchise's street-racing roots, "Fast 5" is actually the first in the "Fast and Furious" series to win over critics. Each previous "Fast and Furious" movie, including the 2001 original, was overwhelmingly panned, but "Fast 5" boasted a 79 percent positive critical rating on movie review aggregator site Rotten Tomatoes at press time. Of course, WTF do they know.
But we digress.
Of course, we're HustleTweeting about The Rock and "Fast 5," and you're more than welcome to join the conversation by Following THE HEYMAN HUSTLE on Twitter HERE or write to us at hustleoncrave@gmail.com
You can also subscribe (for FREE, cheapos, absolutely FREE) to our Ultra High Quality YouTube Channel HERE, and don't forget to check out our old school social networking skills by visiting us on Facebook HERE and even on MySpace HERE
CLICK ON THE PICS BELOW TO SMELL WHAT RECORD-SMASHING
INTERNATIONAL BOX OFFICE MAGIC THE ROCK IS COOKING!


IT'S TIME FOR AN ALL NEW EDITION OF THE HOLLYWOOD CHARLIE
MEDIA WATCH, OUR DAILY TRAVEL ACROSS THE WORLD WIDE WEB.
OUR HIGHLY TRAINED MONKEYS HAVE PICKED OUT THE 15 WILDEST
STORIES FROM THE INTERNET FOR YOUR ASTUTE REVIEW. YOUR PART
IS VERY EASY. ALL YOU NEED TO DO IS PICK A PIC … AND CLICK!