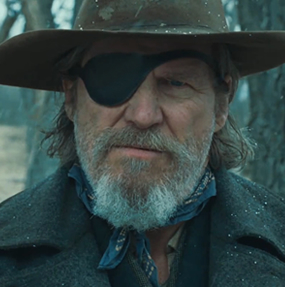 From The Directors of "No Country For Old Men" Comes A Story That Would Send Chills Down John Wayne's Spine …
In the true spirit of the holiday season, Joel and Ethan Coen's epic Western "True Grit" will bring its vengeance-laden tale to theatres on Christmas Day, December 25th.

Yea, though I walk through the valley of the shadow of death …

The trailer for the movie introduces us to Mattie, the 14-year-old girl played by newcomer Hailee Steinfeld. It seems Mattie is looking her own brand of vengeance, at any price, down upon the man who killed her father.

Who is the killer, you might ask? Well, ask away, for the answer shall not disappoint.

Josh Brolin.

Told ya.

So, how does this little 14-year-old go up against Brolin's character Chaney?

Well, she enlists the help of of the eye-patch wearing, booze-swilling U.S. Marshal Rooster Cogburn, of course. A far cry from the version of the character played by John Wayne, this dark tale's Rooster is plated by Jeff Bridges, in a performance already getting Oscar buzz. Bridges won last year for "Crazy Heart." Will this movie land him 2 Oscars back-to-back?

Rooster and Mattie track Chaney into Indian territory, racing to find him before a Texas Ranger named LeBeouf catches him and brings him back to Texas. So, who gets the cherry casting of LeBeouf?

Matt Damon.

In 2007, The Coens won the Academy Award for Best Picture with "No Country For Old Man." Check out this cast already. This movie is headed straight to the Oscars.
WE GOT THE PREVIEW FOR YA.
ALL YA GOTTA DO IS CLICK ON THE VIDEO BELOW!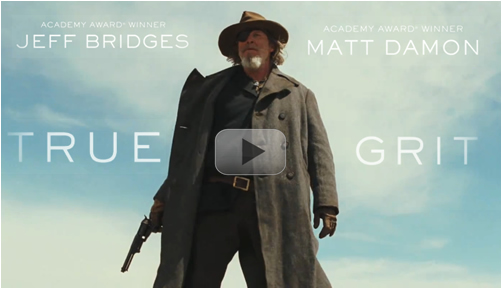 THE HEYMAN HUSTLE'S VERY OWN TRAINED MONKEYS ARE PROUD
TO PRESENT THE TOP 15 STORIES OF THE DAY, ALL CONVENIENTLY
LINKED HERE FOR YOUR REVIEW. NO NEED TO SURF THE WEB, WE
DID ALL THE HARD WORK FOR YOU. JUST PICK A PIC AND CLICK!