UFC President Dana White Is Having A Very Good Day!
UFC middleweight Champion Anderson Silva's first title defense of 2011 is already a box office success. The man many say is the Best Pound for Pound Fighter in the MMA world will put his championship on the line for a record eighth time against Vitor "The Phenom" Belfort in the main event of UFC 126 at the Mandalay Bay Events Center in Las Vegas, and tickets are at sell-out levels. UFC has now announced an official closed circuit viewing party in the Islander Ballroom at Mandalay Bay. Tickets for the closed circuit viewing party are $50 and go on sale Tuesday at 10 a.m. PT. Doors for the viewing party will open at 5 p.m. PT and the event will be shown live on big-screen monitors starting at 7 p.m. PT.
Also on the card is a battle of UFC folk heroes, as Forrest Griffin returns to the Octagon in a very interesting matchup against Rich Franklin.
And in a fight that has a lot of people talking, Jon Jones will take on Ryan Bader in a fight that could determine the future of the Light Heavyweight division.
UFC 126 Main Card
UFC Middleweight Champion Anderson Silva vs. Vitor Belfort
Forrest Griffin vs. Rich Franklin
Jake Ellenberger vs. Carlos Eduardo Rocha
Jon Jones vs. Ryan Bader
Miguel Torres vs. Antonio Banuelos
Preliminary Card
Paul Kelly vs. Donald Cerrone
Chad Mendes vs. Michihiro Omigawa
Gabe Ruediger vs. Paul Taylor
Demetrious Johnson vs. Norifumi "Kid" Yamamoto
Kyle Kingsbury vs. Ricardo Romero
Mike Pierce vs. Kenny Robertson
We're HustleTweeting about UFC 126, Brock Lesnar on The Ultimate Fighter, the Strikeforce Heavyweight Tournament featuring Fedor Emelianenko, Alistair Overeem, and Fabricio Werdum, and all things MMA. Don't be left out, join the conversation! Follow THE HEYMAN HUSTLE on Twitter HERE or write to us at hustleoncrave@gmail.com
You can also subscribe (for FREE, cheapos, absolutely FREE) to our Ultra High Quality YouTube Channel HERE, and don't forget to check out our old school social networking skills by visiting us on Facebook HERE and even on MySpace HERE

CHECK OUT THE OFFICIAL UFC 126 PREVIEW!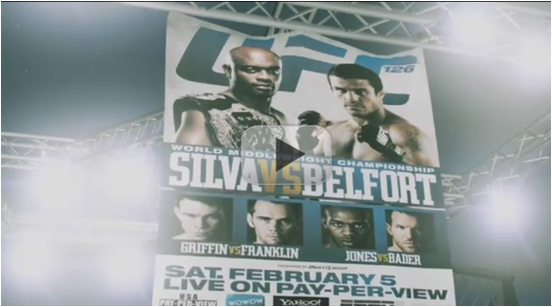 EVERY SINGLE DAY, OUR CRACK STAFF OF OVERWORKED
UNDERPAID BUT HIGHLY TRAINED MONKEYS SCOUR THE
WORLD WIDE WEB IN SEARCH OF THE 15 HOTTEST STORIES
OF THE DAY, JUST TO BRIGHTEN YOUR DAY. COOL, RIGHT?
ALL YOU NEED TO DO IS PICK A PIC … AND CLICK!