Ultimate Fighting Championships To Offer Five Preliminaries on Facebook!

UFC 129, which will be held in front of approximately 55,000 at the Rogers Centre in Toronto, will feature Canadian hero Georges St-Pierre in the main event, defending his Welterweight Championship against the challenge of Jake Shields.
UFC has now announced five preliminary matches will air on Facebook as part of the promotion for the main card. All a fan has to do is click the "LIKE" button on UFC'S OFFICIAL FACEBOOK PAGE to see the fights.
The Facebook stream starts at 6:00 PM Eastern Time / 3:00 PM Pacific, while "UFC 129 Prelims" airs on SpikeTV at 8:00 PM Eastern Time / 5:00 PM Pacific. The pay-per-view broadcast begins at 9:00 PM Eastern Time / 6:00 PM Pacific.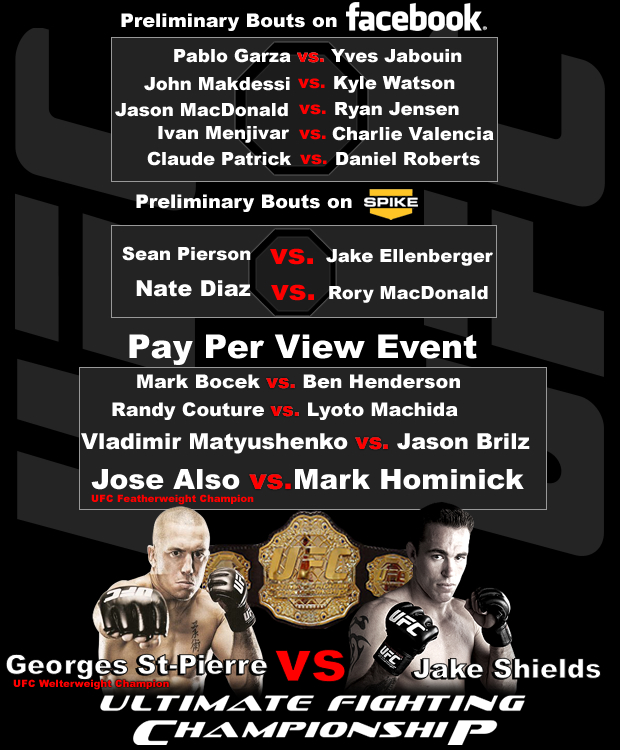 Of course, we're HustleTweeting about GSP, Jake Shields, and UFC 129, so please feel free to join the conversation by following the Hustle on Twitter HERE or write to us directly at hustleoncrave@gmail.com
You can also subscribe (for FREE, cheapos, absolutely FREE) to our Ultra High Quality YouTube Channel HERE, and don't forget to check out our old school social networking skills by visiting us on Facebook HERE and even on MySpace HERE

IT'S TIME FOR AN ALL NEW EDITION OF THE HOLLYWOOD CHARLIE
MEDIA WATCH, OUR DAILY TRAVEL ACROSS THE WORLD WIDE WEB.
OUR HIGHLY TRAINED MONKEYS HAVE PICKED OUT THE 15 WILDEST
STORIES FROM THE INTERNET FOR YOUR ASTUTE REVIEW. YOUR PART
IS VERY EASY. ALL YOU NEED TO DO IS PICK A PIC … AND CLICK!