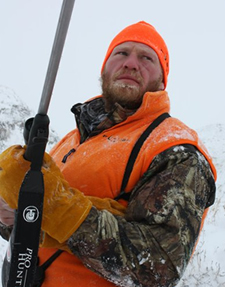 The Story Behind The Photos!
The Internet has been abuzz with the first pictures of Brock Lesnar SINCE HE LOST THE UNDISPUTED UFC HEAVYWEIGHT CHAMPIONSHIP TO CAIN VELASQUEZ AT UFC 121 ON OCTOBER 23rd

The hunting trip was part of a promotion with Federal Premium Ammunition, which shot a video (to be released on YouTube this month) during Lesnar's visit to Milk River in the freezing cold Canadian province of Alberta.

Lesnar bagged not only a giant whitetail, but also a mature mule deer on his trip, which will not only have the YouTube video debuting soon, but also be a full fledged television special on North American Hunter Television in May, 2011. Brock is seen in full "Fusion Ammunition" regalia, which should be familiar to UFC fans, since Fusion is one of the most prominent logos on BROCK'S WALK-OUT SHIRTS during his appearances in the Octagon.

We're HustleTweeting about Brock Lesnar, and you're more than welcome to join the conversation. Follow THE HEYMAN HUSTLE on Twitter HERE or write to us at hustleoncrave@gmail.com
You can also subscribe (for FREE, cheapos, absolutely FREE) to our Ultra High Quality YouTube Channel HERE, and don't forget to check out our old school social networking skills by visiting us on Facebook HERE and even on MySpace HERE
CLICK ON THE PICS BELOW TO SEE THE ENTIRE GALLERY
OF BROCK LESNAR'S MILK RIVER HUNTING TRIP!

THE HEYMAN HUSTLE'S VERY OWN TRAINED MONKEYS ARE PROUD
TO PRESENT THE TOP 15 STORIES OF THE DAY, ALL CONVENIENTLY
LINKED HERE FOR YOUR REVIEW. NO NEED TO SURF THE WEB, WE
DID ALL THE HARD WORK FOR YOU. JUST PICK A PIC AND CLICK!