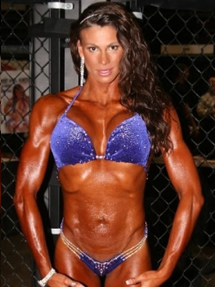 Hustle Photog Bob Mulrenin Scores Big with The Fitness Champion's Ultra Photo Shoot … Just Four Months After Delivering Baby Number Three!
We don't know what's in the water at Charlie Haas's household, but someone ought to bottle that stuff up and sell it to Moms around the world!

Just four months after delivering her third child (Thomas Russell Haas II), Jackie posed for this set of exclusive photos, and we can't imagine Super Mom being in any better shape.

Our congrats to Charlie and Jackie!

We're HustleTweeting about Jackie right now, and you're more than welcome to join the conversation! Follow The Hustle on Twitter HERE or write to us at hustleoncrave@gmail.com
You can also subscribe (for FREE, cheapos, absolutely FREE) to our Ultra High Quality YouTube Channel HERE, and don't forget to check out our old school social networking skills by visiting us on Facebook HERE and even on MySpace HERE
CLICK ON THE PICS BELOW TO SEE THE ENTIRE GALLERY FEATURING
THE AWESOMELY FIT SUPER MOM JACKIE GAYDA-HAAS!

IT'S TIME FOR AN ALL NEW EDITION OF THE HOLLYWOOD CHARLIE
MEDIA WATCH, OUR DAILY TRAVEL ACROSS THE WORLD WIDE WEB.
OUR HIGHLY TRAINED MONKEYS HAVE PICKED OUT THE 15 WILDEST
STORIES FROM THE INTERNET FOR YOUR ASTUTE REVIEW. YOUR PART
IS VERY EASY. ALL YOU NEED TO DO IS PICK A PIC … AND CLICK!