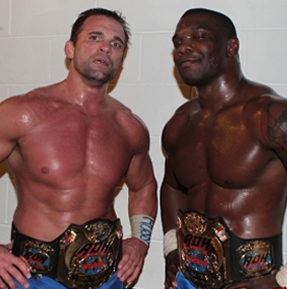 EXCLUSIVE PHOTO COVERAGE FOR THE HEYMAN HUSTLE BY GEORGE TAHINOS!
Former WWE World Tag Team Champions Charlie Haas and Shelton Benjamin defeated The Kings of Wrestling for the ROH Tag Team Titles earlier tonight in the semi-main event of Ring of Honor's Internet pay per view in Atlanta, Georgia.
Of course, it's WrestleMania weekend in Atlanta, which means you can check out the story on HHH's SHOCKING REACTION TO SNOOKI … EXCLUSIVE PHOTOS OF STEPHANIE McMAHON-LeVESQUE … INTERVIEWS WITH THE ROCK, JOHN CENA, THE MIZ, AND HHH … and A FANTASTIC PHOTO GALLERY OF SMACKDOWN WORLD CHAMPION EDGE!
Haas and Benjamin's victory over The Kings of Wrestling ends a nearly-one-year-long title reign by Chris Hero Claudio Castagnoli, who captured the titles on April 3, 2010. Ring of Honor comes right back onto Internet Pay Per View during the afternoon, with a 1:00 pm Eastern Time start (trying to give people time to go to the Hall of Fame), with Haas and Benjamin vs The American Wolves in a non-title tag team match.
The American Wolves are ROH World Champion Eddie Edwards and Davey Richards. The card will be broadcast on GoFightLive.TV
We, of course, are HustleTweeting about Charlie Haas and Shelton Benjamin, and you're more than welcome to join the conversation! Follow The Hustle on Twitter HERE or write to us at hustleoncrave@gmail.com
You can also subscribe (for FREE, cheapos, absolutely FREE) to our Ultra High Quality YouTube Channel HERE, and don't forget to check out our old school social networking skills by visiting us on Facebook HERE and even on MySpace HERE
CLICK ON THE PICS BELOW TO SHARE THE VICTORY
WITH CHARLIES HAAS AND SHELTON BENJAMIN!

IT'S TIME FOR AN ALL NEW EDITION OF THE HOLLYWOOD CHARLIE
MEDIA WATCH, OUR DAILY TRAVEL ACROSS THE WORLD WIDE WEB.
OUR HIGHLY TRAINED MONKEYS HAVE PICKED OUT THE 15 WILDEST
STORIES FROM THE INTERNET FOR YOUR ASTUTE REVIEW. YOUR PART
IS VERY EASY. ALL YOU NEED TO DO IS PICK A PIC … AND CLICK!