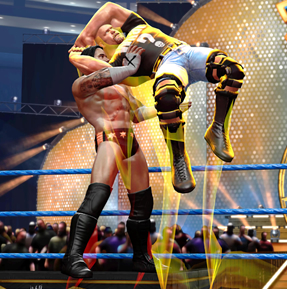 HUSTLE EXCLUSIVE!

THQ's WWE ALL STARS VIDEO GAME was released today for the Xbox 360® video game and entertainment system from Microsoft, PlayStation®3 system, PlayStation®2 system, PSP® (PlayStation®Portable) system and the Wii™ system from Nintendo. According to a joint press release from THQ and World Wrestling Entertainment, the game offers "a unique, bold and energetic gameplay experience packed with an incredible roster of legendary talent and current-day WWE Superstars."
The game, which is rated "T" for Teen, is the latest in THQ's WWE line of premium game play. "WWE All Stars delivers what many core WWE SmackDown vs. Raw fans, casual followers and the WWE Universe have been demanding in a new and original take on WWE videogames," said Danny Bilson, Executive Vice President, Core Games, THQ. "From smart, highly accessible gameplay to the greatest roster we have ever featured in a WWE videogame, WWE All Stars is a must-have product for anyone looking to have a fun, interactive WWE experience."
Of course, the big push for this game centers around the "fantasy matchups" the game offers, such as this exclusive showdown between The Straight Edge Superstar CM Punk and the beer guzzling Rattlesnake, Stone Cold Steve Austin.
That is probably a match fans will never get to see, but they can experience … and indeed, even control the action … with the WWE All Stars video game!
So, what would happen if Austin and Punk ever met in the middle of a WWE ring? Well, that's up to you to decide, and we'd love to know your feedback! WWE All Stars features such fun, over-the-top, in-your-face, hard hitting, high flying WWE action, it's hard not to imagine what would happen if these two WWE Superstars from different eras collided. We're HustleTweeting about the fantasy Austin vs Punk main event, and you're more than welcome to join the conversation! Follow the Hustle on Twitter HERE or write to us directly at hustleoncrave@gmail.com
You can also subscribe (for FREE, cheapos, absolutely FREE) to our Ultra High Quality YouTube Channel HERE, and don't forget to check out our old school social networking skills by visiting us on Facebook HERE and even on MySpace HERE
CLICK ON THE PICS BELOW TO SEE THE EXCLUSIVE SCREENCAPS
OF THE HEYMAN HUSTLE'S FANTASY MAIN EVENT OF AUSTIN VS PUNK!

HERE IT IS …
THE MAIN EVENT YOU'VE ALL BEEN WAITING FOR …
STONE COLD STEVE AUSTIN VS CM PUNK!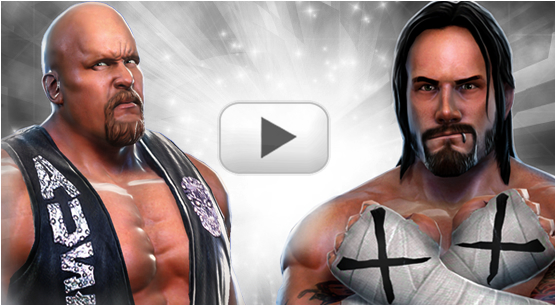 IT'S TIME FOR AN ALL NEW EDITION OF THE HOLLYWOOD CHARLIE
MEDIA WATCH, OUR DAILY TRAVEL ACROSS THE WORLD WIDE WEB.
OUR HIGHLY TRAINED MONKEYS HAVE PICKED OUT THE 15 WILDEST
STORIES FROM THE INTERNET FOR YOUR ASTUTE REVIEW. YOUR PART
IS VERY EASY. ALL YOU NEED TO DO IS PICK A PIC … AND CLICK!