After A Run-In with The LAPD, The Uplifting Story of The World's Most Famous Homeless Man Takes a Dramatic Turn!
Ted Williams is an alcoholic.
Not a recovering one.
Not a reformed one.
Not one who has beaten his demons and addictions.
Ted Williams is still hooked on booze.
And now, Ted Williams, the most famous and inspirational homeless person in the world, is seeking help.
The Man with The Golden Voice agreed to enter treatment to address his drug and alcohol dependency during "a lengthy on-on-one conversation" with Dr. Phil, which airs on television today.
"Ted admitted he was not as sober as he had been claiming, but he also stated he was ready to take the necessary steps to get help he needs," a producer on Dr. Phil's program told THE HEYMAN HUSTLE.
In a shocking revelation that really should come as no surprise to begin with, Ted's 29 year old daughter Janey stated her father has been drinking heavily, "at least a bottle of Grey Goose a night."
During an exclusive interview with Entertainment Tonight, Janey claimed "That's not including the Coronas he ordered, that's not including the Budweisers he ordered, the other alcohol, the wines. He drinks heavily."
Family members told Dr. Phil the troubling news that Ted's sudden burst into the global spotlight threw him right back into substance abuse, which led to a physical altercation with his daughter that necessitated the invention of the LAPD, which held the two in custody.
CLICK HERE TO READ OUR ORIGINAL STORY ON TED WILLIAMS, POSTED JUST MOMENTS AFTER THE YOU TUBE VIDEO WENT LIVE, AND MINUTES BEFORE THE INTERNATIONAL VIRAL EXPLOSION!
CLICK HERE TO READ OUR 2nd STORY ON "TED ALL CLEANED UP!"
"If Ted is ever going to get better, he's got to be honest with himself and admit he's addicted to drugs and alcohol," Dr. Phil said in a statement, "Everyone is pulling for Ted, but his 15 minutes are going to be over and then he'll be left to manage a life filled with temptation," he said.
We're HustleTweeting about Ted Williams and this breaking news story, and you're more than welcome to join the conversation! Follow the Hustle on Twitter HERE or write to us at hustleoncrave@gmail.com

You can also subscribe (for FREE, cheapos, absolutely FREE) to our Ultra High Quality YouTube Channel HERE, and don't forget to check out our old school social networking skills by visiting us on Facebook HERE and even on MySpace HERE


HERE'S THE VIDEO THAT STARTED THE WHOLE "TED WILLIAMS CRAZE!"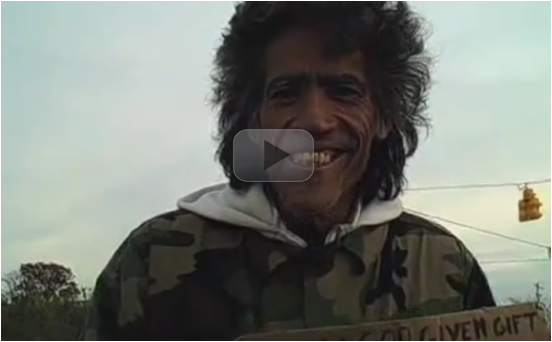 IT'S TIME FOR AN ALL NEW EDITION OF THE HOLLYWOOD CHARLIE
MEDIA WATCH, OUR DAILY TRAVEL ACROSS THE WORLD WIDE WEB.
OUR HIGHLY TRAINED MONKEYS HAVE PICKED OUT THE 15 WILDEST
STORIES FROM THE INTERNET FOR YOUR ASTUTE REVIEW. YOUR PART
IS VERY EASY. ALL YOU NEED TO DO IS PICK A PIC … AND CLICK!