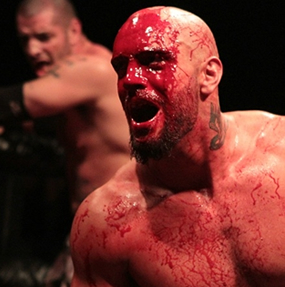 HUSTLE EXCLUSIVE – With Graphic Photos of The Atlanta Bloodbath with The All Night Express!

The Briscoe Brothers grabbed a lot of people's attention when they faced off against Rhett Titus and Kenny King, The All Night Express during WrestleMania weekend, when ROH presented Honor Takes Center Stage, with back-to-back shows at WCW Saturday Night's former home, The Center Stage Theatre in Atlanta. The two teams upped the ante with one of the most memorable, bloody matches in Ring of Honor history.
Based on the Briscoes' heel turn after the match, the stage has been set for Saturday Night, May 7th, when ROH runs the Ted Reeve Arena in Toronto. In the main event, Charlie Haas and Shelton Benjamin, the former WWE Tag Team Champions who are putting on clinics as the ROH Tag Team Champions will defend the titles against The Briscoes.
We're HustleTweeting about The Atlanta Bloodbath, and The Briscoes vs Haas and Benjamin,and you're more than welcome to join the conversation by following THE HEYMAN HUSTLE on Twitter HERE or write to us at hustleoncrave@gmail.com
You can also subscribe (for FREE, cheapos, absolutely FREE) to our Ultra High Quality YouTube Channel HERE, and don't forget to check out our old school social networking skills by visiting us on Facebook HERE and even on MySpace HERE
CLICK ON THE PICS BELOW TO SEE GEORGE TAHINOS' EXCLUSIVE
PHOTO GALLERY FEATURING THE BRISCOES VS THE ALL NIGHT EXPRESS!


IT'S TIME FOR AN ALL NEW EDITION OF THE HOLLYWOOD CHARLIE
MEDIA WATCH, OUR DAILY TRAVEL ACROSS THE WORLD WIDE WEB.
OUR HIGHLY TRAINED MONKEYS HAVE PICKED OUT THE 15 WILDEST
STORIES FROM THE INTERNET FOR YOUR ASTUTE REVIEW. YOUR PART
IS VERY EASY. ALL YOU NEED TO DO IS PICK A PIC … AND CLICK!