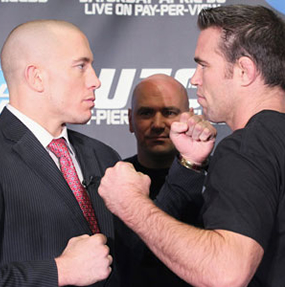 GSP vs Jake Shields Has Toronto Buzzing!
UFC sold its entire original ticket block, over 42,000 tickets for its long-awaited debut in Toronto when tickets went on sale through the UFC Fight Club membership today. The event, UFC 129, will be headlined by Welterweight Champion Georges St-Pierre defending his title against Jake Shields, will take place on April 30th at the Rogers Centre.

"I LOVE CANADA!" UFC President Dana White texted some members of the Canadian media, and well he should.

Some people paid a premium of almost $90 to join the UFC's fan club so they could have first dibs on the tickets for the UFC's first-ever show in Ontario, and the event officially sold out during the pre-sale offering!
The previous UFC attendance record was UFC 124 in Montreal, which drew 23,152 to the Bell Centre in December. Dana often refers to Canada as the mecca of mixed martial arts. "To say the response was overwhelming would be an understatement," said Tom Wright, the UFC's director of Canadian operations.
It took the UFC even less time, just seven or eight minutes after tickets went on sale to members of the UFC Fight Club at 10 AM Eastern Time, to decide it needed to make several thousand more tickets available so there would be some left when the general public gets a chance to buy them Saturday.
On Friday, another pre-sale is set for those who subscribe to the UFC newsletter.
A search for best available tickets at noon produced a $50 limited view seat in the upper tier 500 level of the Rogers Centre.
Tickets almost immediately started appearing on Stubhub, a ticket reseller.
The Rogers Centre card will be the UFC's sixth in Canada. Montreal has hosted UFC 83, 97, 113 and 124 while Vancouver hosted UFC 115.
Vancouver will also host the BROCK LESNAR VS JUNIOR DOS SANTOS Number One Contenders Fight in June.
The Rogers Centre says its capacity is 46,105 for baseball and 46,374 for football, not including luxury suite seats. WrestleMania X8 attracted a total attendance of 68,237 fans in March 2002 to the stadium, then called The SkyDome.
We're HustleTweeting about UFC 129, and you're more than welcome to join us! Follow THE HEYMAN HUSTLE on on Twitter HERE or write to us at hustleoncrave@gmail.com
You can also subscribe (for FREE, cheapos, absolutely FREE) to our Ultra High Quality YouTube Channel HERE, and don't forget to check out our old school social networking skills by visiting us on Facebook HERE and even on MySpace HERE

IT'S TIME FOR AN ALL NEW EDITION OF THE HOLLYWOOD CHARLIE
MEDIA WATCH, OUR DAILY TRAVEL ACROSS THE WORLD WIDE WEB.
OUR HIGHLY TRAINED MONKEYS HAVE PICKED OUT THE 15 WILDEST
STORIES FROM THE INTERNET FOR YOUR ASTUTE REVIEW. YOUR PART
IS VERY EASY. ALL YOU NEED TO DO IS PICK A PIC … AND CLICK!