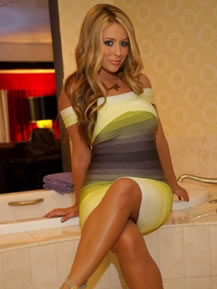 HUSTLE EXCLUSIVE!
The buxom blonde bombshell who caused all sorts of controversy on THE HEYMAN HUSTLE (CLICK HERE FOR VIDEO) has granted us EXCLUSIVE access to her penthouse atop the Planet Hollywood Casino in Las Vegas!
Aubrey O'Day, the former Danity Kane lead singer who will star in Planet Hollywood's wildly successful "Peep Show" in September, invited the Hustle to her Penthouse as her staff got her ready for a night out on the town in Sin City!
Playing with her dog "Ginger" while getting her hair done, Aubrey was excited to show off her new digs to the Hustle readers, and promised more exclusives in the next few days.
"This is just the start," she said as she rode the elevator down to the gambling mecca's casino floor, "we're going to have a blast in the next few days!"
We're HustleTweeting about Aubrey, and you're more than welcome to join the conversation! Follow THE HEYMAN HUSTLE on on Twitter HERE or write to us at hustleoncrave@gmail.com This e-mail address is being protected from spambots. You need JavaScript enabled to view it
You can also check out our old school social networking skills by visiting us on Facebook HERE and even on MySpace HERE
CLICK ON THE PICS BELOW FOR THE HEYMAN HUSTLE'S WORLD EXCLUSIVE
PHOTOGRAPHS OF AUBREY O'DAY IN HER LAS VEGAS PENTHOUSE THAT
YOU WILL ABSOLUTELY NOT BE ABLE TO FIND ANYWHERE ELSE!

IT'S TIME FOR AN ALL NEW EDITION OF THE HOLLYWOOD CHARLIE
MEDIA WATCH, OUR DAILY TRAVEL ACROSS THE WORLD WIDE WEB.
OUR HIGHLY TRAINED MONKEYS HAVE PICKED OUT THE 15 WILDEST
STORIES FROM THE INTERNET FOR YOUR ASTUTE REVIEW. YOUR PART
IS VERY EASY. ALL YOU NEED TO DO IS PICK A PIC … AND CLICK!