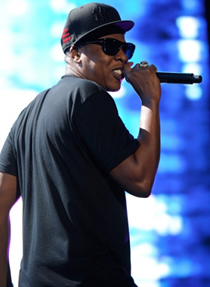 Live Coverage of The Very First Concert In The New Yankee Stadium!
The clouds were ominous over The South Bronx last night, as the birthplace of hip hop got a chance to see just how far the genre has grown.

New York-born Jay-Z and Detroit's Eminem kicked off a two-night extravaganza at the new Yankee Stadium that will undoubtedly go down in history.

It was in the borough of The Bronx, New York where Hip Hop was born, and it's here where the new generation of music lovers have crowned Jay-Z and Eminem as the ultimate representatives of the style.
The two-night concert event follow two equally gigantic shows that took place 10 days ago at Comerica Park in Eminem's hometown of Detroit.
Eminem took the stage first as a video introduction told the story of his return from drug addiction and five years off the stage. He opened up with "Won't Back Down" from his latest CD "Recovery." Eminem also welcomed guests like his posse D-12, protege 50 Cent, mentor Dr. Dre and new hitmaker B.o.B.
The self-proclaimed "New Sinatra," Jay-Z welcomed guests like Kanye West for "Run This Town," and Coldplay's Chris Martin. And Beyonce. And Nicki Minaj. And Drake. "I gotta tell y'all it's one of the most wonderful things being here tonight, being from New York City and being in Yankee Stadium," Jay-Z told the insanely-pumped-up crowd.
Despite the expensive ticket prices, people definitely got their money's worth. The show went well past minute. And here's the wildest part of our story.
There's still one more night to go.
CLICK ON THE PICS BELOW TO SEE THE ENTIRE GALLERY
OF EMINEM AND JAY-Z AT YANKEE STADIUM, NIGHT ONE!

THE HEYMAN HUSTLE'S VERY OWN TRAINED MONKEYS ARE PROUD
TO PRESENT THE TOP 15 STORIES OF THE DAY, ALL CONVENIENTLY
LINKED HERE FOR YOUR REVIEW. NO NEED TO SURF THE WEB, WE
DID ALL THE HARD WORK FOR YOU. JUST PICK A PIC AND CLICK!