His Name is Ted Williams, and He's Going To Be An Internet Sensation!
Ted Williams is about to hit a home run.

A homeless man in Columbus, Ohio was the subject of a YouTube video that has taken on a life of its own.The Bedford-Stuyvesant, Brooklyn, native trained to be a radio announcer before drugs and alcohol ruined his chances at a career, and he has been begging on the side of a road in Columbus, Ohio, before a local newspaper found him.

He says he's been sober and drug-free for almost two and half years now.

Local police would refer to Williams as "Radio Man," when chasing him from his usual begging spots, Williams said.
We're HustleTweeting about Ted Williams, and you're more than welcome to join the conversation! Follow THE HEYMAN HUSTLE on Twitter HERE or write to us at hustleoncrave@gmail.com
You can also subscribe (for FREE, cheapos, absolutely FREE) to our Ultra High Quality YouTube Channel HERE, and don't forget to check out our old school social networking skills by visiting us on Facebook HERE and even on MySpace HERE

HERE'S THE VIDEO THAT HAS THE ENTIRE INTERNET TALKING!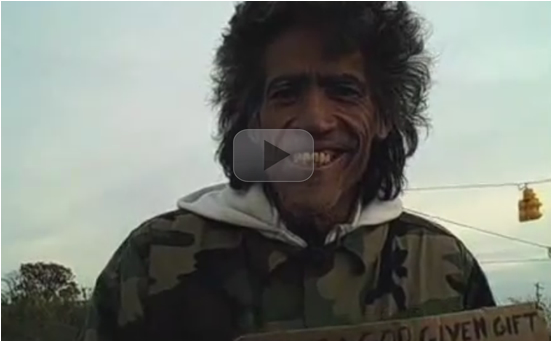 IT'S TIME FOR AN ALL NEW EDITION OF THE HOLLYWOOD CHARLIE
MEDIA WATCH, OUR DAILY TRAVEL ACROSS THE WORLD WIDE WEB.
OUR HIGHLY TRAINED MONKEYS HAVE PICKED OUT THE 15 WILDEST
STORIES FROM THE INTERNET FOR YOUR ASTUTE REVIEW. YOUR PART
IS VERY EASY. ALL YOU NEED TO DO IS PICK A PIC … AND CLICK!