The UFC's Color Commentator Breaks Down What Happened To The Fedor Mystique!

Joe Rogan participated in a Q&A session for UFC in Seattle recently, and offered a most interesting opinion on the recent back-to-back losses suffered by FEDOR EMELIANENKO
"I think at the highest levels of the game, you can't be rolling around fat at 230," Rogan offered, "We saw that in the Bigfoot Silva fight. Bigfoot Silva walks around at 290 pounds. (Fedor) is an amazing athlete and he has put on some incredible fights over the years but, I think once you get to the highest levels of the game, you can't come in fat and you can't be fighting way above your weight class."
Rogan also stated,"Fedor is an amazing talent, an incredible athlete. I really admire his mind and his mindset when he goes to compete. It's really fun to watch, that he's so nonchalant with his big belly and he goes in there fucks people up. But the reality is that's not going to work in the upper echelon in the sport, at least (any more)."
A tip of of the HustleHat to MMAWeekly for their EXCELLENT COVERAGE OF ROGAN'S COMMENTS
You can follow Joe Rogan on Twitter HERE
Of course, we're HustleTweeting about Joe Rogan and Fedor Emelianenko, and you're more than welcome to join the conversation by following the Hustle on Twitter HERE or write to us directly at hustleoncrave@gmail.com
You can also subscribe (for FREE, cheapos, absolutely FREE) to our Ultra High Quality YouTube Channel HERE, and don't forget to check out our old school social networking skills by visiting us on Facebook HERE and even on MySpace HERE
JOE ROGAN TALKS ABOUT FEDOR EMELIANENKO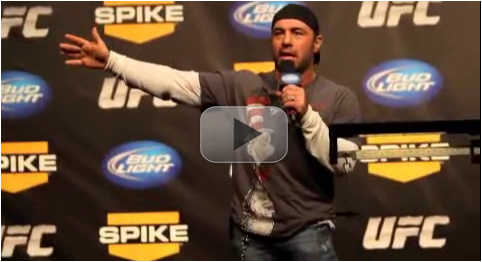 IT'S TIME FOR AN ALL NEW EDITION OF THE HOLLYWOOD CHARLIE
MEDIA WATCH, OUR DAILY TRAVEL ACROSS THE WORLD WIDE WEB.
OUR HIGHLY TRAINED MONKEYS HAVE PICKED OUT THE 15 WILDEST
STORIES FROM THE INTERNET FOR YOUR ASTUTE REVIEW. YOUR PART
IS VERY EASY. ALL YOU NEED TO DO IS PICK A PIC … AND CLICK!