When Sly Wanted Some Bad Ass F'n Brazilians In His Movie, He Turned To The UFC's Toughest Twins in History!
When Sylvester Stallone talks about all the tough guys he cast in his latest flick "The Expendables," he's not kidding. Simply for legitimacy in the background scenes, Stallone cast a host of Brazilian MMA fighters, including Antonio Rodrigo Nogueira and Antonio Rogerio Nogueira.

In this video, released to promote "The Expendables," Stallone not only discovers The Nogueira Brothers in Brazil, but attends a local MMA fight that includes an appearance by Anderson Silva.
We're HustleTweeting about Stallone and "The Expendables," and you're more than welcome to join the conversation by following THE HEYMAN HUSTLE on Twitter HERE or by writing to us at hustleoncrave@gmail.com
ROCKY BALBOA GOES TO A BRAZILIAN MMA SHOW!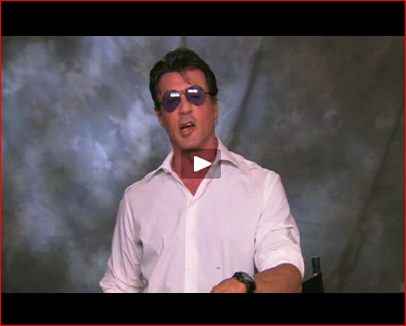 THE HEYMAN HUSTLE'S VERY OWN TRAINED MONKEYS ARE PROUD
TO PRESENT THE TOP 15 STORIES OF THE DAY, ALL CONVENIENTLY
LINKED HERE FOR YOUR REVIEW. NO NEED TO SURF THE WEB, WE
DID ALL THE HARD WORK FOR YOU. JUST PICK A PIC AND CLICK!