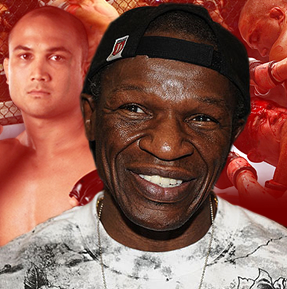 … and takes one helluva shot at Freddie Roach, too!
Floyd Mayweather Sr. spoke with our good friend Percy Crawford of FIGHTHYPE and laid it all on the line regarding his training of UFC headliner BJ Penn.

If you haven't checked out Percy's work lately, you are missing some of the most compelling interviews with boxing's most controversial personalities. As always, Percy nailed it during his discussion with Big Floyd.

QUESTION: My phone has been blowing up because word got out that you are working with UFC lightweight/welterweight BJ Penn. How did that come about?
ANSWER: Well, you know his strength and conditioning coach is Robert Garcia. Robert was Oscar's strength coach when I was with him, so he brought BJ down and we doing some stuff together. He was only supposed to be down here for a week, but he said he's learning so much that he's gonna stay two. If they really want to win this thing and look good, I would like to have him for 3 to 4 weeks, but trust me…the stuff I'm showing him in these 2 weeks will work if he uses it; trust me.
QUESTION: How is the chemistry so far?
ANSWER: BJ Penn is a cool dude man. I'll be honest, at first, it didn't seem like he could fight that good. I mean, I don't know about his ground game and all of that stuff, but he's got some pop and in just the 3 days I've been working with him, he has improved man. In his words, man, he told me, "I ain't never seen some of this stuff you're showing me man." And that's only after 3 days. BJ is learning fast man. He's a good guy.
QUESTION: His next opponent is Jon Fitch, who is a wrestler and will have a height and size advantage…
ANSWER: (Cutting in) Yeah, I heard he is about 6 foot tall and cuts a good bit of weight to make 170 pounds, but guess what? If BJ throws his shots the way I got him throwing his shots, he will win. See, those guys throwing shots different than the way we do it, so I'm teaching BJ how to keep it standing and be effective. Let me tell you something man, if he uses it, then it will work.
QUESTION: Do you see yourself working with more martial artists because I've had a few of them hit me up to get in contact with you.
ANSWER: I work with a couple now and I'm all for it. I don't know shit about that ground stuff, but I can get their defense tight and get them throwing their shots right. I got BJ working on something just for a taller opponent. I don't know what BJ's ground game is like at all, but if he uses what I'm showing him, he won't need it. Trust me when I tell you now.
QUESTION: You know BJ worked with Freddie Roach some years back…
ANSWER: (Cutting in) I bet he aint going back [to Freddie Roach] either. He worked with Freddie "The Joke Coach" Roach and he telling me he has never seen the stuff I'm showing him, so what does that tell you? Man, the only thing Freddie Roach can do better than me is wash my car.

We're HustleTweeting about Floyd Mayweather Sr vs Freddie Roach, BJ Penn vs Jon Fitch, and anything else you can think of. No limits, Hustlers! Don't be left out of the mix, join the conversation! Follow THE HEYMAN HUSTLE on Twitter HERE or write to us at hustleoncrave@gmail.com
You can also subscribe (for FREE, cheapos, absolutely FREE) to our Ultra High Quality YouTube Channel HERE, and don't forget to check out our old school social networking skills by visiting us on Facebook HERE and even on MySpace HERE

EVERY SINGLE DAY, OUR CRACK STAFF OF OVERWORKED
UNDERPAID BUT HIGHLY TRAINED MONKEYS SCOUR THE
WORLD WIDE WEB IN SEARCH OF THE 15 HOTTEST STORIES
OF THE DAY, JUST TO BRIGHTEN YOUR DAY. COOL, RIGHT?
ALL YOU NEED TO DO IS PICK A PIC … AND CLICK!